smodj/iStock via Getty Images
EZCORP Inc. (NASDAQ:EZPW) is a leading pawnshop operator with 1,149 stores across the U.S. and Latin America. This is a business model that has proven resilient with the core pawn loans representing an important form of alternative financing for cash-strapped consumers. Indeed, despite some disruptions during the early stages of the pandemic, EZCORP just reported its latest quarterly result, highlighted by strong growth and firming profitability. We believe the company is well-positioned to benefit from the current macro landscape into 2022 defined by high inflation which has pressured consumer finances. The trends support higher demand for pawn loans while the retail operation for second-hand goods gets a boost as an attractive option for value-conscious shoppers. We are bullish on EZPW which offers a combination of solid fundamentals and a positive long-term growth outlook.
Seeking Alpha
The company reported its fiscal Q1 earnings on February 2nd with a GAAP EPS of $0.21 which climbed from $0.08 in the period last year. Revenue of $222 million climbed 24.4% year over year and has nearly recovered to pre-pandemic levels on a 2-year stacked basis.
On this point, the real story is climbing profitability with operating income at the highest level going back to at least 2013. EBITDA of $31.0 million is up from $17.0 million in the period last year. Efforts during the pandemic to streamline the operation and generate financial efficiencies are paying off. Total operating expenses as a percentage of revenue at 49.8% are down from 55.8% in Q1 fiscal 2021.
source: Company IR
Among key financial metrics, pawn loans outstanding (PLO) at $177 million climbed 20% y/y and 16% y/y on a comparable same-store basis. The trend in PLO reflects organic momentum in the business because it drives the flywheel or revenue into higher pawn service charges (PSC) as well as the merchandise sales on forfeited pawn collateral. Merchandise sales at $138.1 million are a strong point, up 28.1% y/y.
The other takeaway here is that the trends include the Latin America pawn segment which contributes about 33% of firm-wide operating income. The Latam region net revenues climbed 47% y/y during the quarter which was also boosted by the addition of 131 new stores. Latam same-store PLO increased 20% y/y compared to 15% for the U.S. operation.
The company ended the quarter with $233.3 million in cash and cash equivalents against $312 million in long-term debt. Considering EBITDA or $76 million over the past year, the net debt to EBITDA leverage ratio right around 1x highlights an overall solid balance sheet position also considering an expectation that earnings climb going forward.
It's worth mentioning that EZCORP CEO Jason Kulas resigned in January citing personal reasons in a decision to join a different company. We do not believe this development impacts the company's growth trajectory. While management is not providing financial guidance for 2022, comments in the press release projected optimism for continued operating and financial momentum. A new loyalty program and online payment options are seen supporting repeat customers as a positive to the growth outlook. The company intends to focus on expanding its footprint in attractive markets while driving customer engagement as part of its growth strategy.
source: company IR
Pawnshops are recognized as a relatively counter-cyclical segment expected to perform well during an economic downturn as consumers look to raise cash as a short-term lending option. The core aspect of pawing goods and jewelry as collateral for a loan across a national footprint of retail locations represents a sort of moat to the business that the emergence of fintech solutions simply can't replicate. For a meaningful segment of the population and the target customers of EZCORP, pawnshops provide a useful and even critical service.
One of the challenges in 2020 and the early part of 2021 was the avalanche of stimulus measures in the United States including enhanced unemployment and direct payments during the pandemic ended up limiting the demand for pawn loans. Fast forward, and what we are seeing now with record inflation and tighter economic conditions sets up a more positive operating environment for the company.
While the labor market remains strong, there is a concern that wage growth may not keep up with rising prices. Several other indicators suggest consumers are being squeezed amid high gas prices and declining savings levels. The point here is that 2022 should be good for pawn loans with continued momentum for EZCORP over 2021 trends.
According to consensus estimates, revenues are expected to reach $844 million this year representing a 16% increase over 2021. EPS should accelerate higher into the more normalized operating environment to a forecast of $0.65 which compares to just $0.38 last year. Out towards 2023, the market expects top-line growth in the mid-single digits while EPS has further upside as the company continues to improve margins. The bullish case for the stock is that there is an upside to these estimates. The company can also benefit from a weaker dollar as it would add incremental gain to its international segment.
Seeking Alpha
In terms of valuation, EZPW is trading at a 1-year forward P/E of 10x represents a discount compared to the company's average for the ratio over the past decade. We also draw a contrast with pawn store operator comparable FirstCash, Inc. (FCFS) which trades at a forward P/E closer to 14x. EZPW also trades at a discount in terms of sales and EBITDA multiples.
One explanation is that FCFS is larger, about twice the size of EZPW in terms of annual revenues, and has generated stronger growth with a more aggressive expansion strategy. Still, recognizing some key differences between the two companies that have varying strategies, we view EZPW as the "value pick" between the two with more upside potential as their valuation spread should narrow benefiting EZCORP.
Shares of EWPW have been volatile, down nearly 30% from a high in late November but still up around 22% over the past year. We think the current level represents a new buying opportunity into a strong outlook. We rate EZPW as a buy with a year ahead price target of $8.00 representing a forward P/E of 12.5x on the current consensus 2022 EPS and narrowing the valuation spread with FCFS. In our view, EZCORP benefits from solid operating and financial trends and is well-positioned to consolidate its market share.
Seeking Alpha
The main risk to consider is the company's execution of growth initiatives. Weaker than expected results in the upcoming quarters can open the door for further downside in the stock. It will be important for the margins to remain elevated. Monitoring points include same-store sales and pawn loan balances with further growth as part of the bullish case.
Add some conviction to your trading! Exclusive stock ideas from our "ALPHA PICKS" along with the best daily market trading commentary. Join the community and active chat room. Click here for a two-week free trial at the Conviction Dossier.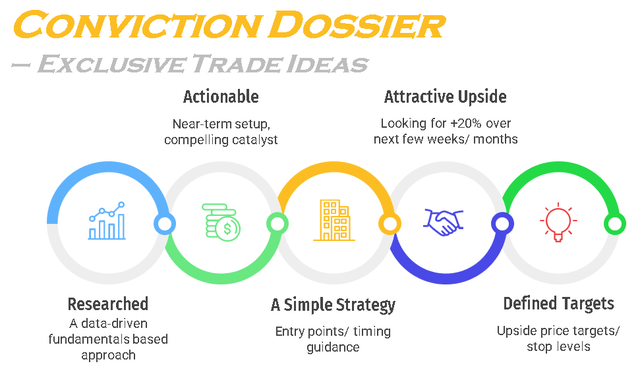 This article was written by
The most extensive coverage on SA! We combine fundamental analysis with a data-driven approach to find "outside the box" ideas.
15 years of professional experience in capital markets and investment management at major financial institutions.
Check out our private marketplace newsletter service *Conviction Dossier* for curated trade ideas.
Disclosure: I/we have no stock, option or similar derivative position in any of the companies mentioned, and no plans to initiate any such positions within the next 72 hours. I wrote this article myself, and it expresses my own opinions. I am not receiving compensation for it (other than from Seeking Alpha). I have no business relationship with any company whose stock is mentioned in this article.